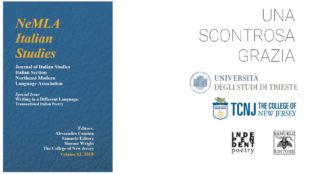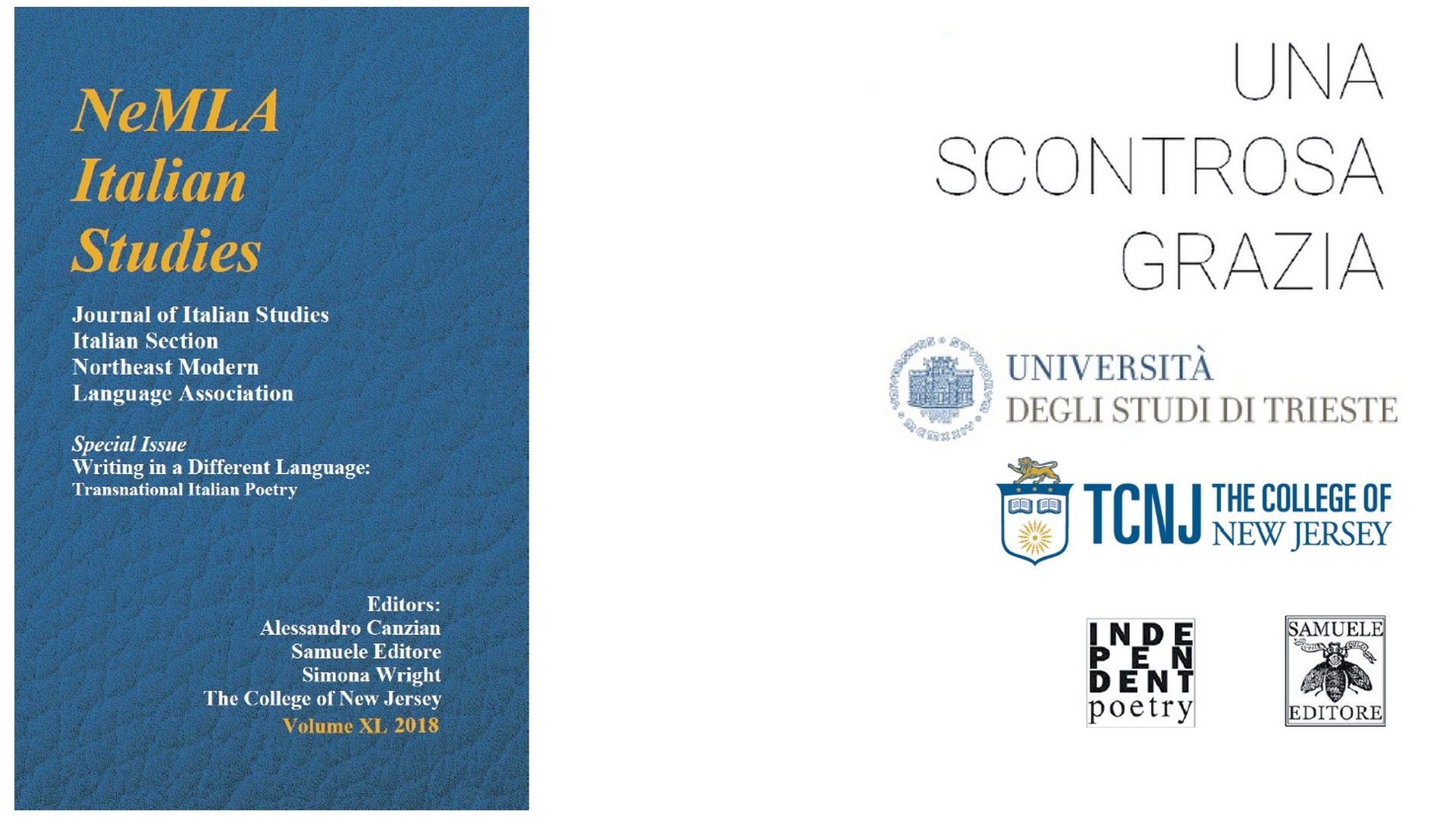 WRITING IN A DIFFERENT LANGUAGE
POESIA CONTEMPORANEA E ALTERITA' LINGUISTICA
mercoledì 22 maggio 2019 – ore 17:00
Università di Trieste
Sala Atti, Dipartimento di Studi umanistici
Androna Campo Marzio, 10
Mercoledì 22 maggio, alle ore 17:00, 60esimo incontro del ciclo Una Scontrosa Grazia eccezionalmente ospitata dal Dipartimento di Studi Umanistici dell'Università di Trieste. Verrà infatti proposto un seminario a partire dall'ultimo numero della rivista NeMLA, "Writing in a Different Language", curato da Simona Wright e Alessandro Canzian, con una riflessione sulla poesia contemporanea che sceglie di usare una lingua "diversa" e si confronta con l'alterità linguistica. Il seminario, che avrà relazioni di Simona Wright, Sergia Adamo, Rodolfo Zucco e interventi di Sandro Pecchiari, Ilaria Boffa, Monica Guerra, Anna Tauzzi, verterà sul contesto contemporaneo ma anche sul bisogno costitutivo della scrittura letteraria di mettere in gioco l'alterità.
"Writing in a Different Language: Transnational Italian Poetry" è un progetto di Simona Wright (College of New Jersey) e Alessandro Canzian (Samuele Editore) che ha come obiettivo fondamentale la domanda: cosa significa scrivere poesie, oggi, in una realtà che predilige in maniera importante il rapporto con il pubblico attraverso la partecipazione a eventi, letture, festival? Per tentare di rispondere a questo quesito sono stati selezionati otto poeti residenti in Italia che scrivono saltuariamente o costantemente in inglese. Che scrivono testi che non hanno cioè un'immediata fruibilità in occasioni pubbliche. Ne è emerso un laboratorio in cui la lingua viene esaminata, disfatta e sfidata. L'inglese diventa uno spazio creativo in cui l'attraversamento dei confini può produrre originali impollinazioni incrociate e, auspicabilmente, nuove forme di poesia.
Il Northeast Modern Language Association – NeMLA con sede presso l'Università del Buffalo nello stato di New York, è un'organizzazione no-profit di insegnanti e studiosi di letteratura, lingua e cultura. Affiliata alla Modern Language Association (MLA), NeMLA organizza un forum per la diffusione e l'avanzamento dell'insegnamento nelle lingue e letterature moderne. Ogni anno, la convention del NeMLA offre l'opportunità di portare avanti una tradizione di ricerca vivace e scambio pedagogico in un evento di quattro giorni, nel quale vengono affrontate diverse tematiche attraverso tavole rotonde, seminari, workshop interattivi, eventi speciali, letture, proiezioni di film e conferenze.
Questo appuntamento di Una Scontrosa Grazia è in collaborazione con Università degli Studi di Trieste, The College of New Jersey, Samuele Editore, Independent Poetry
clicca qui per il link alla notizia sul sito dell'Università di Trieste.